BACK
Collaborative Film Making
Collaborative Film-Making is very similar to social networking. In many cases, a production company will use the internet community to create films that vary in content from suspense to action. Star Wreck Studios, based in Tampere, Finland, hopes to build a permanent community for collaborative movie making. Star Wreck Studios is responsible for the creation of an online community titled Wreck-a-Movie.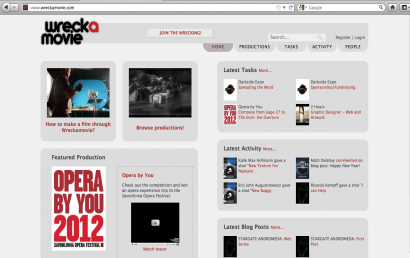 Wreck-a-Movie is a permanent community site for movie-making collaborators. In early August of 2008, the community was working on two projects: "a science fiction comedy about Nazis on the moon, Iron Sky and a horror film called Sauna." Iron Sky and Sauna were written by professional script writers. The community participates by commenting and discussing the script. The production leader decides what is used in the creation based on the comments and ideas discussed on a forum. The company aspires to "take a community of thousands of online movie-making buffs, and have them collaborate on a feature-length film." Anybody interested in film can join the community and create plot and music proposals as well as comment on scenes.


Click to view website
Deptford TV
Deptford.TV functions as an open, collaborative platform that allows artists, film-makers, researchers and participants of the local workshops in and around Deptford, and also beyond Deptford, to store, share, re-edit and redistribute their footage and projects. This raw material as well as edited media content is available on the Deptford.TV database under an open content license such as the Free Art License, the Creative Commons.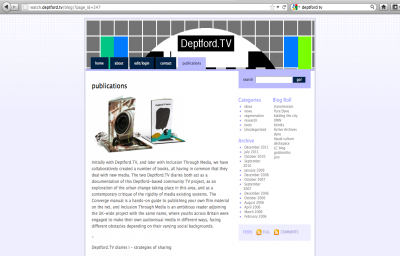 Click to view website
Man with the Movie Camera
Man With a Movie Camera: The Global Remake is a participatory video shot by people around the world who are invited to record images interpreting the original script of Vertov's Man With A Movie Camera and upload them to this site. Software developed specifically for this project archives, sequences and streams the submissions as a film. Anyone can upload footage. When the work streams your contribution becomes part of a worldwide montage, in Vertov's terms the "decoding of life as it is".